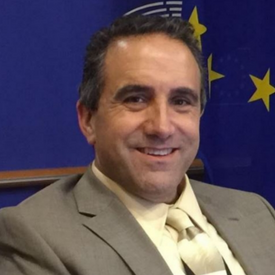 Marc Morano, publisher of CFACT's Climate Depot and the Author of the 2021 book Green Fraud: Why the Green New Deal is Even Worse Than You Think. Marc also served senior staff on the U.S. Senate Environmental & Public Works Committee and authored the 2019 book, "The Politically Incorrect Guide to Climate Change" and produced and starred in the films Climate Hustle (2016) and Climate Hustle 2 (2020).
Morano's next book, "The Great Reset: Global Elites and the Permanent Lockdown," is set for release in 2022.
Rolling Stone Magazine has declared Morano one of the planets 17 "climate killers" and "a central cell of the climate-denial machine." Morano was (dis) honored by climate activists at Media Matters as the "Climate Misinformer of the Year." Morano was (Dis) Honored Again as he was named #2 on 'TOP 10 CLIMATE DENIERS' list by actor Leonardo DiCarpio & National Geographic.
Morano was an investigative reporter for Cybercast News Service and as a reporter and producer for the nationally syndicated television newsmagazine "American Investigator." In 2000, his investigative television documentary "Amazon Rainforest: Clear-Cutting the Myths" created an international firestorm. During his tenure as a senior advisor, speechwriter, and climate researcher for U.S. Senator James Inhofe (R-OK), he managed the award-winning communication operations of the GOP side of the U.S. Senate Committee on Environment and Public Works.
Morano served as a reporter for the nationally syndicated "Rush Limbaugh, the Television Show" in the 1990s. Morano, referred to by Mr. Limbaugh as "Our Man in Washington," had the dubious distinction of being the first journalist in history to have his television camera seized at the Clinton White House while on assignment with Limbaugh's show.