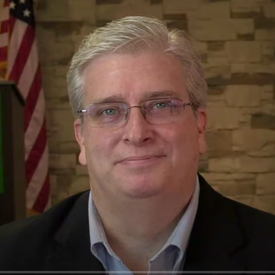 Heartland's Board of Directors elected Jim Lakely as Vice President of The Heartland Institute in March 2020. He has been Director of Communications for Heartland since 2010.
Prior to joining Heartland in 2008, Lakely spent 15 years in daily-deadline journalism, including covering Capitol Hill and the White House for The Washington Times for five years, participating in two news-making Oval Office interviews with George W. Bush.
Lakely has appeared on C-SPAN, the Fox News Channel, MSNBC, CNN, and many national and local television and radio news programs. He's been a reporter for the Tribune-Review in Pennsylvania; an editorial writer and columnist for The Free Lance-Star in Fredericksburg, Virginia; and an editorial writer for The Press-Enterprise in Riverside, California. He got his start in journalism covering the Sewer Board, County Commissioners and "courts and cops" in McKean County, Pennsylvania at The Bradford Era in 1993.
Lakely often serves as "master of ceremonies" at The Heartland Institute's public events, and manages the planning and production of Heartland's major conferences — such as the International Conferences on Climate Change, the America First Energy Conferences, and Heartland's annual benefit dinners. Lakely also led Heartland's 2015 contingents to Rome to bring climate realism to Pope Francis, the United Nations Conference of the Parties (COP-21) in Paris, and COP-25 in Madrid in 2019.